Multi-currency Card for International Travelers
This is a prepaid card you can use to make purchases and cash withdrawals during your travels around the world in up to 5 different currencies: US dollars, Canadian dollars, Sterling pounds, Euros and Japanese yen, safely and with the backing of Mastercard.
A smart card that automatically selects the currency depending on the type of local money the country you are at uses.
Contactless Technology. Pay by simply bringing your card close to a device compatible with this payment method.
Safe online shopping thanks to the 3D Secure Protocol.
Internationally accepted.
A replacement card can be sent to you if yours is lost or stolen while abroad1.
Immediate emergency cash if your card is lost, made available from your card´s account balance2.
You can add funds to your card through various means: Relationship Manager, Mobile Banking or Online Banking.
Free Call Center in many languages, 24/7, 365 days a year
Cash withdrawal in foreign bank teller windows.
Transfer funds from one currency to another.
Available to users 13 years or older3.
1Review fees, commissions, terms and conditions of service.
2Available to users 18 years or older.
3Parents´ or legal guardians´ consent is required and must have an active Currency Contract at Intercam, as well as an unexpired valid ID as part of the requirements.
The card does not generate interest or returns on the cash balance.
Requirements
Be an Intercam Client with an active Foreign Exchange Bank Contract (applies to Individuals and Companies)
Individuals*
Official identification.
Proof of address.
RFC.
CURP.
Corporations
Deed of incorporation registered with the Public Property Registry.
Powers of attorney from the legal representative
RFC and Proof of legal address.
Consider that cards cannot be issued under company name. The Legal Entity will determine the Individuals who will serve as cardholders. Remember that Client service and consulting services are to be provided only to the cardholder.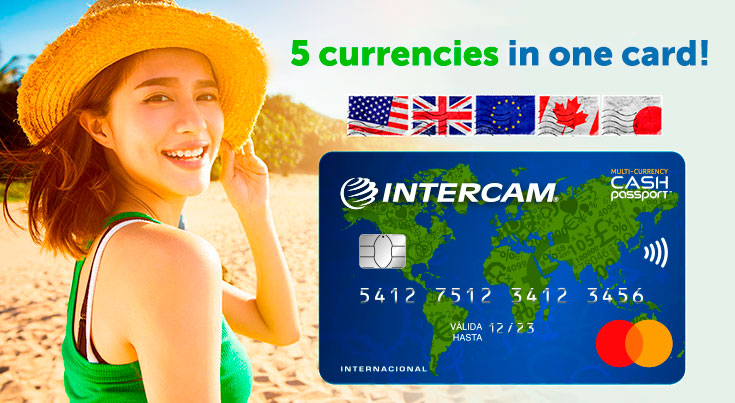 If your card is lost or stolen, contact our Card Service Center.
From anywhere in Mexico: 800 288 9868
International calls: +44 207 649 9404. Remember: calls to this number are not toll-free; don't forget to add the international dialing prefix for the country you're in (in most cases it is 00).
If you are traveling, you can go over a list of toll-free numbers available in each country in the following document: